Attendance
There's a clear link between poor attendance at school and low levels of achievement. Poor attendance can disrupt a pupils own learning and that of other pupil's. It has a damaging effect on a child's education and most of the work missed while a child is off school is never made up.
Pupils who attend school regularly are likely to leave school with more qualifications and increased access to employment opportunities than children with persistent absence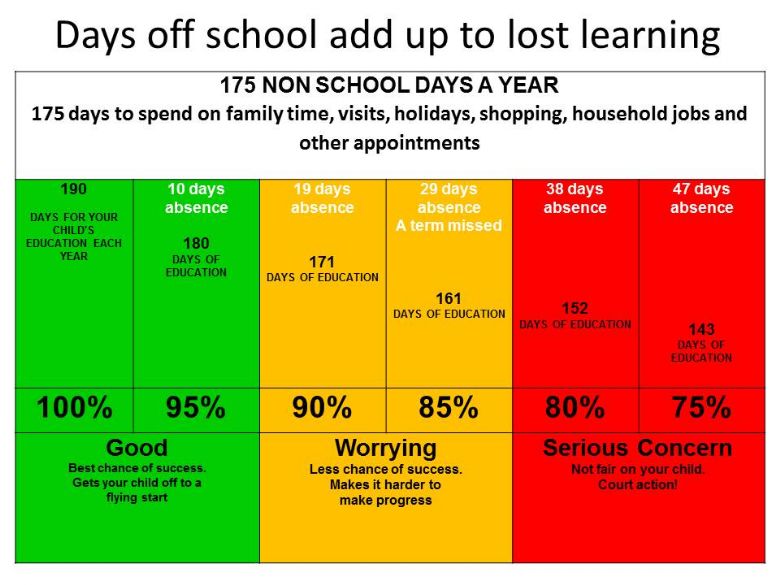 NORTH NORTHANTS COUNTY COUNCIL PENALTY NOTICE INFORMATION
Fixed penalty fines can be issued to parents or guardians if the children in their care are absent from school for any of the following reasons
Holidays taken during term time
Persistent late arrival to class (after registration has closed, on 10 occasions in any 10-week period)
Poor attendance (of five or more unauthorized sessions within a term)
Truancy (including pupils found during truancy patrols)
A fine of £60 for each child is issued to each parent or guardian. If the fine is not paid within 21 days, another £60 fine will be issued; both must be paid within 28 days of the date when the original fine was issued.
For example, if a family of four (two parents and two children) goes on an unauthorised holiday during term-time, each parent must pay £120 if paid within 21 days, rising to £240 if paid later.
Where a child has had 2 periods of unauthorised leave for which the parent has been issued with a Penalty Notice, on the third occasion, no Penalty Notice will be issued and you may be prosecuted under Section 444(1) where if convicted you may be fined up to £1,000.
Decisions on whether to allow a leave of absence during term-time are made by individual schools, not the council.
There is no right to appeal. Fines will only be withdrawn if they are found to have been issued in error. If parents or carers believe an absence to have been classified incorrectly, they need to take this up with the school rather than the council, as whether or not the council issues a fine depends on the school's classification.
UNPAID FINES
If the fine is not paid, the council may begin legal proceedings in the Magistrates Court against the parents or guardians for failing to ensure their child's attendance at school. If convicted, each parent or guardian may face a fine of up to £1,000.