English
English
Phonics and Spellings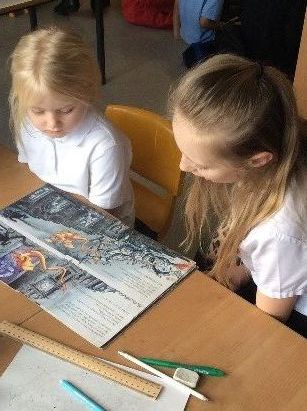 The teaching and learning of phonics and spellings in the Foundation Stage and Key Stage One at Studfall Infant Academy is underpinned by the use of an effective bespoke systematic phonics programme. This is taught alongside the National Curriculum requirements for spellings in years 1 and 2. The teaching of phonics will follow the teaching sequence set out in the Read, Write, Inc. programme where children are taught the grapheme-phoneme correspondence in a clearly defined sequence. The programme teaches the 44 main sounds in the English language and these are called 'Speed Sounds'. We also use the Letters and Sounds Programme to enhance the approaches we use with teahing phonics. Throughout the school, the reading and spelling of common exception words will also be taught. These are words that cannot be spelt using phonic knowledge alone.
In the first phase of Phonics for our Nursery children we concentrate on developing speaking and listening skills, phonological awareness (identifying sound patterns in spoken words) and oral blending and segmenting skills. Their language skills are developed through carefully organised activities and a broad and rich language curriculum with speaking and listening at its centre.
We then move onto learning rhyming words and the letter sounds that words begin with. When the children are ready we move onto the Read, Write Inc. phonics scheme to start teaching the letters and sounds.
In Reception the children are taught all of their letter sounds and some 'digraphs' (which is where two letters join together to make one sound like 'sh') following the Read, Write, Inc. phonics scheme.
In Year One and Year Two, children are then taught a new set of digraphs and trigraphs, which focus on alternative spellings of sounds already introduced. Children also learn new sounds and spelling rules set out in the statutory National Curriculum Spelling scheme for Year One and Year Two.
Download the Year One and Year Two Spelling Schemes below
Handwriting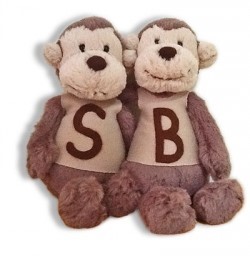 As a school we use a handwriting scheme called Kinetic Letters. The programme develops successful writers by improving shoulder and pelvic girdle strength ensuring children are ready to write. It then teaches families of letters using a multi-sensory approach which provides children with the skills to write with stamina, flow and fluency. The programme has four threads:
• Making bodies stronger
• Holding the pencil (for speed, comfort and legibility)
• Learning the letters
• Flow and fluency
In Nursery the children are encouraged to build up their core strength, gross and fine motor skills through exciting activities such as messy play, climbing apparatus, cutting, pegging, playing musical instruments and mark-making.
In Reception the children initially learn to form the letters through large body movements and gradually move onto smaller movements, until they are ready to write on paper, whiteboards and with materials like sand, shaving foam and corn flour. Children will be taught how to hold their pencil correctly and how to develop the correct posture when writing.
At Key Stage One, children continue to learn to write their letters correctly, linked by the moves made to form each letter. We encourage children to use the correct starting position for each letter and produce letters of a uniform size. When the children can form their letters correctly and sit them neatly on the line, they will be ready to learn how to join their handwriting.
Download the Kinetic Letters Booklet below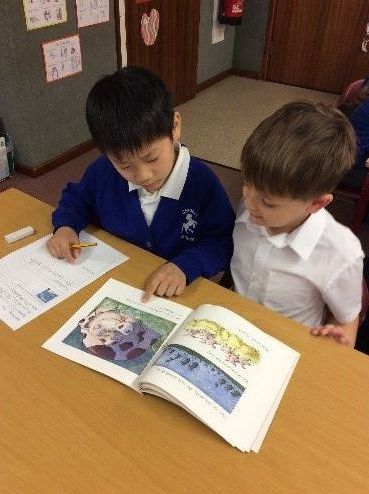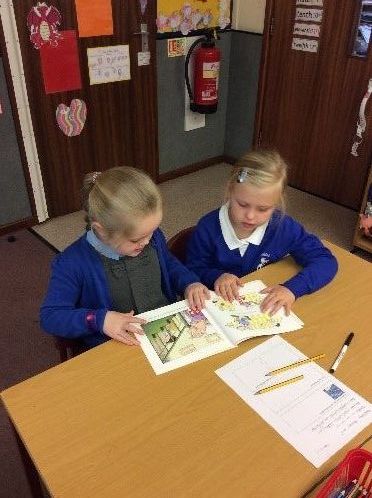 Reading
Your child will have a wide, varied and engaging reading experience at Studfall, beginning their reading journey in Nursery and Reception. They will partake in whole class shared reading, guided reading in groups and reading with a partner. Individual reading will also take place on a regular basis with the class teacher, as well as with teaching assistants and voluntary help.
We follow the Oxford Reading Tree reading scheme, which offers an extensive selection of books for the children to read, including stories, non-fiction and poetry. Children follow the order of the books which are colour coded, according to its level of difficulty. As the children progress through the scheme, they are encouraged to choose their own book from a selection within the same colour book band.
READING AT HOME:
You can really help your child's progress if you practise their reading with them at home and ensure they bring their book bag to school every day.
We also use EPIC reading - which is an online library. Families can use this at home and we also use this in our taught sessions - where the interactivity of the books is valuable . This scheme also links up with National Geographic - meaning we have a wealth of access to non - fiction books too. A link for information is beneath. Invites are sent directly to families.
Your child will have a home/school reading record book, where the adult listening to them will write a comment. Please write a short comment when you have listened to them read at home.
Parents will also be invited to take part in our termly 'Book and Biscuit' sessions where they will have the opportunity to visit their child in their class and take part in a variety of reading activities.