Music
At Studfall we aim to provide a curriculum which encourages listening skills, singing, music making and an appreciation of a variety of forms and styles of music. We use an interactive Music Scheme called Charanga, tailored specifically for schools. This Scheme provides teachers with week-by-week lesson support for each year group with resources such as lesson plans, forms of assessment, clear progression indicators, and engaging and exciting whiteboard resources to support every lesson! The Scheme supports all the requirements of the National Curriculum and the Early Years Statutory Framework.
Charanga is divided into six Units of Work, covering the six school terms of the year. Each Unit is comprised of the strands of musical learning which correspond with the National Curriculum for Music:
Listening and Appraising
Musical Activities

Warm-up Games
Optional Flexible Games
Singing
Playing instruments
Improvisation
Composition

Performing
The Charanga Musical School Units of Work enable children to understand musical concepts through a repetition-based approach to learning ~ that is, learning about the same musical concept through different musical activities which enables a more secure, deeper learning and mastery of musical skills.
Children are also given the opportunity to perform each lesson as a class!

Throughout the year, each class is encouraged to perform at other events such as Harvest Festival and Christmas, Easter, Class Assemblies or a Leaver's Concert. This enables them to further develop performance skills, and to perform to a larger, wider audience.
Children have the opportunity to play a variety of percussion instruments during such occasions, and also to make and play their own instruments.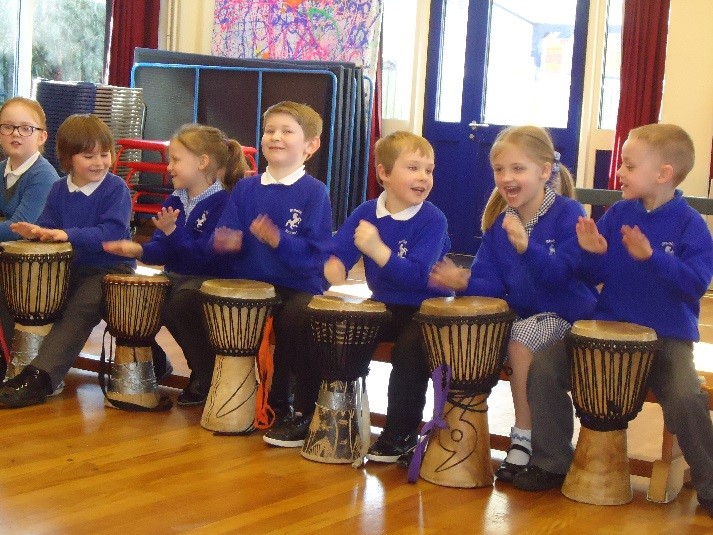 We also provide opportunities for the children to learn to play a musical instrument through the Rock Steady music scheme. Please ask for more details!