Year 2
Please find tasks attached to support your child with their home learning. These will be updated every Monday. Please do not feel like you have to do them all - there is plenty to choose from!
If you are having trouble printing or accessing these resources please let your child's class teacher know. We are always available for you to contact via email if you have any questions or queries.
We would love to keep in contact with all of you, so please send us photos of your amazing work or activities which you have been completing at home.
We miss you very much. Please take care and keep safe! ​
The Year 2 Team xxx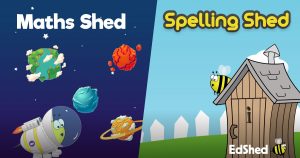 To support your child with their maths and spelling, we have purchased a subscription to a website called 'Maths Shed' and 'Spelling Shed.' This can be accessed by visiting www.edshed.com
The Spelling Shed and Maths Shed help children to practise spelling and maths via a simple game. The game gives four different degrees of support in the form of difficulty modes; Easy, Medium, Hard and Extreme. Higher levels allow a higher score to be achieved but children can practise as much as they like on lower levels before trying to gain high scores.
We may set assignments for your child to complete online.
Your child's personal username and login should have been emailed to you. If there are any issues, please do not hesitate to contact us.